Connie Hannon
CEO/Co-Founder
A former assistant on Capitol Hill, Connie has held a wide variety of jobs in television news, most notably with CNN's Washington Bureau as well as Dallas, Texas – the fifth largest market in the country. Connie has more than a decade of experience writing news, travel and restaurant reviews for more than a dozen print, broadcast and online media organizations. She has worked in hospitality, most notably for Hilton Hotels and for a dine-around start-up, Dishcrawl.
Connie is a native Texan and has lived in Dallas and Washington, D.C. for the majority of her life. Connie graduated from American University in Washington D.C. with a B.A. in Political Studies and a Masters degree in Journalism with a concentration Public Affairs. She has two adult daughters, Emily and Callie.
The Best Thing She Ever Ate:
A cheese omelet at an outdoor cafe in Nimes, France.
Favorite Food or Dish:
Street Tacos
Favorite Dessert:
Pecan Ball topped with Fudge and a Maraschino Cherry
Favorite Fish:
Yellowtail Tuna & any kind of Salmon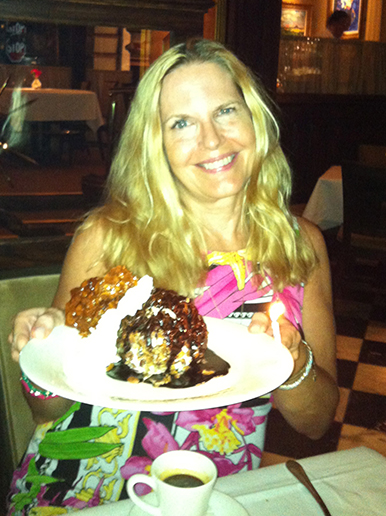 Michelle Barlow
President/Co-Founder
A long time veteran of television news management at stations crisscrossing the U.S., Michelle successfully parlayed her news experience into creating video content strategies for the business-to-business community, primarily in Texas, Oklahoma, and North Carolina. A passionate project leader, Michelle's strength is in identifying and executing solid marketing messages that display the unique nature of small to medium-sized companies across the country.
As a morning show producer and executive producer, Michelle created hundreds of live news segments showcasing fine dining and entertaining to viewers in Dallas and Las Vegas. The award-winning content manager spearheaded the launch of one of the first 7 p.m. newscasts on the East Coast at WBTV in Charlotte, North Carolina and led her production team in the expansion of morning newscasts at Fox, Hearst, and two former Emmis Television stations in Arizona and Kansas. The Texas Christian University graduate currently lives in Las Vegas with her husband, Rick and her two office buddies – her dogs Samantha and Mario.
The Best Thing She Ever Ate:
Roasted duck at a restaurant in Piccadilly Circus, London
Favorite Dessert:
Chocolate Chip Cookies (if there is a chocolate chip cookie recipe, I've tried it.
Favorite Food:
Any kind of aioli/dipping sauce; Baked Chilean Sea Bass; anything with bacon or cheese.